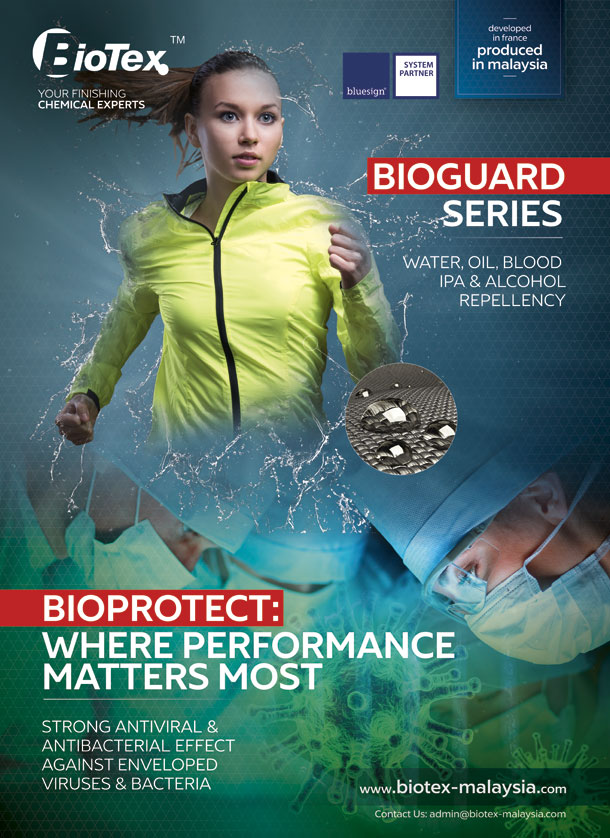 BioTex Malaysia covered by Global Textile Magazine – TextileToday Bangladesh
BioTex Malaysia a Bluesign Partner was established in 2002 in Malaysia to manufacture innovative specialty chemicals, using a French technology
Innovative solutions to fight against COVID19 outbreak
With the COVID-19 coronavirus outbreak, the global way we live has drastically changed, and the virus brought awareness of how important personal protective textiles are when being exposed to diseases and infection risks.
Biotex latest-generation BioGuard high purity repellents that help to create a barrier effect when used in masks or Personal Protective Equipment (PPE)
The antibacterial additives BioProtect meet the highest standards for professional health care and provide reliable protection for all fiber types, especially suitable for non-woven textiles for medical use such as protective face masks and surgical gowns. BioProtect is used for protection against infections with a extreme high durable effect. This new technology is able to withstand high temperatures and chlorine laundering, extending the useful life of each treated garment. That's protection your customers can count on.
---
About BioTex Malaysia has been providing high-tech finishing chemicals to the worldwide textile markets. Focusing strongly on unique and innovative solutions, research & development
• high fluorinated water & oil repellents
• flame retardants
• PU Coating
• wrinkle free resin applications
• encapsulated mosquito – cool – fresh finishes
• wet & dry rub fastness improver
• black deep color shade improver
• softener chemistry silicon – esterquat and wax technology
Please find more details here or send inquiry admin@biotex-malaysia.com
protect others and yourself against the spread of viruses
Watch our tech update at textile today