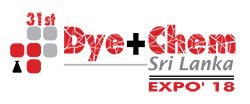 We have presented our new innovations for the textile finishing market. SRI LANKA a growing market for the technical Apparel Industry. We had excellent and innovative exchange with key customers in Sri Lanka e.g. MAS Holding with 93.000 employees , Brandix and Hayleys.
Most discussed topics:
BIOGUARD ZERO CP – durable water repellency and it is not based on fluorine, a very strong non-fluorine product currently available on the market
Biosoft A wide range of oils, polymers and emulsions. Reactive and Non reactive specialty silicones for all applications. e.g. Amino silicone oils , hydrophilic and  micro-emulsion.
We are truly grateful to all our partners who have given importance to our work by spending part of their time in our booth. The curiosity and the interest shown have, once again, demonstrated that our efforts and initiatives produce value in the textile chain.
BIOTEX: the leading concentrated Textile Chemicals manufacturer in South East Asia